It takes more than superior walls to build a complete home.
In addition to using Insulated Concrete Forms (ICF) and being a certified R2000 builder, Dabrro takes pride in offering many other environmental options, allowing home owners to customize their home package.
Geothermal Heating
Heat and cool your home with renewable earth energy. Geothermal energy represents the leading edge of heating and cooling technology. It moves heat energy to and from the earth to heat and cool your indoor environment. Geothermal technology can save you 30% to 60% on your monthly energy bills.
http://www.gothreshold.com/
In Floor Radiant Heating
Imagine warm floors on a cold winter morning. Infloor radiant heat transfers warmth from the floor directly to your body in addition to heating the air around you. The result is a more comfortable, cost-effective, energy efficient heating system. Warm water circulates through durable plastic tubing safely embedded in concrete, resulting in the warmth being distributed evenly throughout your home.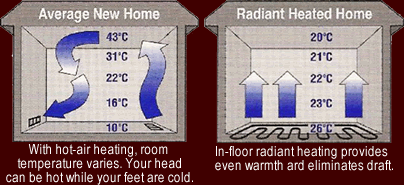 Hydronic Heating
Hydronic heating is a very efficient alternative to traditional heating methods. By pumping hot water through heat transfer units a energy efficient condensing boiler can meet a homes heating demands with a 94% efficiency. This is done in three separate systems, all running off the same boiler unit. These are infloor radiant heating, a forced air system utilizing a heat transfer blower coil unit, and a domestic hot water system. By eliminating the need for open flame heating systems, or expensive electric heating units, energy efficiency is achieved as well as long term cost saving benefits.
Solar Options
Solar Hot Water Heating:
• The water heater is one of the biggest energy users in many Canadian homes as
15 percent of a typical energy bill goes to heating water. Solar collectors are an
environmental option that preheats water to drastically reduce the reliance on, and costs
associated with natural gas. In Canada, a solar system provides about 50% of the water
heating energy needs in a home.
Solar Power:
• Photovoltaic solar panels allow Albertans to redistribute power back in to the grid
through net zero metering. This can help to reduce ones environmental footprint and
lower electricity bills.
Passive Solar Heating:
• By designing a home to incorporate south facing windows, warm winter sunlight can be
converted into usable heat. This allows the homeowner to capitalize on the natural light
provided by the sun and to be less reliant on electricity. This coupled with a Solatube
Daylighting system can give natural light to every room.
http://solaralberta.ca/
Energy Efficient Appliances
Appliances consume a significant percentage of energy used in a home. Did you know that the average home spends about $1500 on energy costs every year? Installing appliances that have earned the ENERGY STAR, can save $80 a year in energy costs, while saving the environment.
http://www.energystar.gov/index.cfm?c=appliances.pr_appliances
Energy Efficient Lighting
Energy-efficient lighting offers more than energy savings. Energy-efficient products often use more advanced technology. As well, they help preserve our limited natural resources and reduce the impact of human activities on the environment.
http://oee.nrcan.gc.ca/residential/personal/lighting.cfm?attr=4
Water saving options
Whether it is in energy-efficient shower heads, low flush toilets or a rainwater storage system for outdoor watering, Dabrro offers these simple but effective options.
http://oee.nrcan.gc.ca/residential/personal/new-homes/water-conservation.cfm?attr=4